WebSite DESIGN | Digital MARKETING
Portfolio
photo by Digital Neauxmad | Newport, RI '19
Causey Med Aesthetic requested a custom website experience for their new luxury aesthetic medicine & medical spa in Baton Rouge. The philosophy behind the brand is the upmost in elegance and the premier spa experience. They offer the best in services, technology and customer service. They place a heavy focus on the aesthetic and how something feels and so we wanted to mirror the same look they achieved on the interior design of the spa.
Digital Neauxmad also established and managed their social media in the build up to their official opening in Spring of 2019. I helped them get a jump on taking control of their digital footprint and taking their digital marketing into their own hands.
The Bengal Group was in need of a fresh website after losing track of their previous hosting. We provided an updated look and a functional website that enabled scholarship applicants to apply online. Our intention was to make it as easy as possible for potential scholarship recipients to apply for the scholarship and drastically increased submission numbers. Digital Neauxmad also helped coordinate the online payment and registration for The Bengal Group's annual Golf Classic by providing streamlined solutions on their new website.
I created a method for administrators to quickly receive and distribute formatted, completed applications. I helped The Bengal Group take control of their digital footprint, allowing them to keep their followers up to date.
After updating their marketing identity, Baton Rouge trial lawyers Clary Suba Neale wanted a fresh update to their law firm's aging website. The focus was on creating a simple, elegant site that also acted as a professional legal reference— highlighting their expertise on a number of disciplines.
Digital Neauxmad also coordinated implementation of new marketing content across all digital media as well as updating the Clary Suba website blog and creating & planning social media activity across all accounts.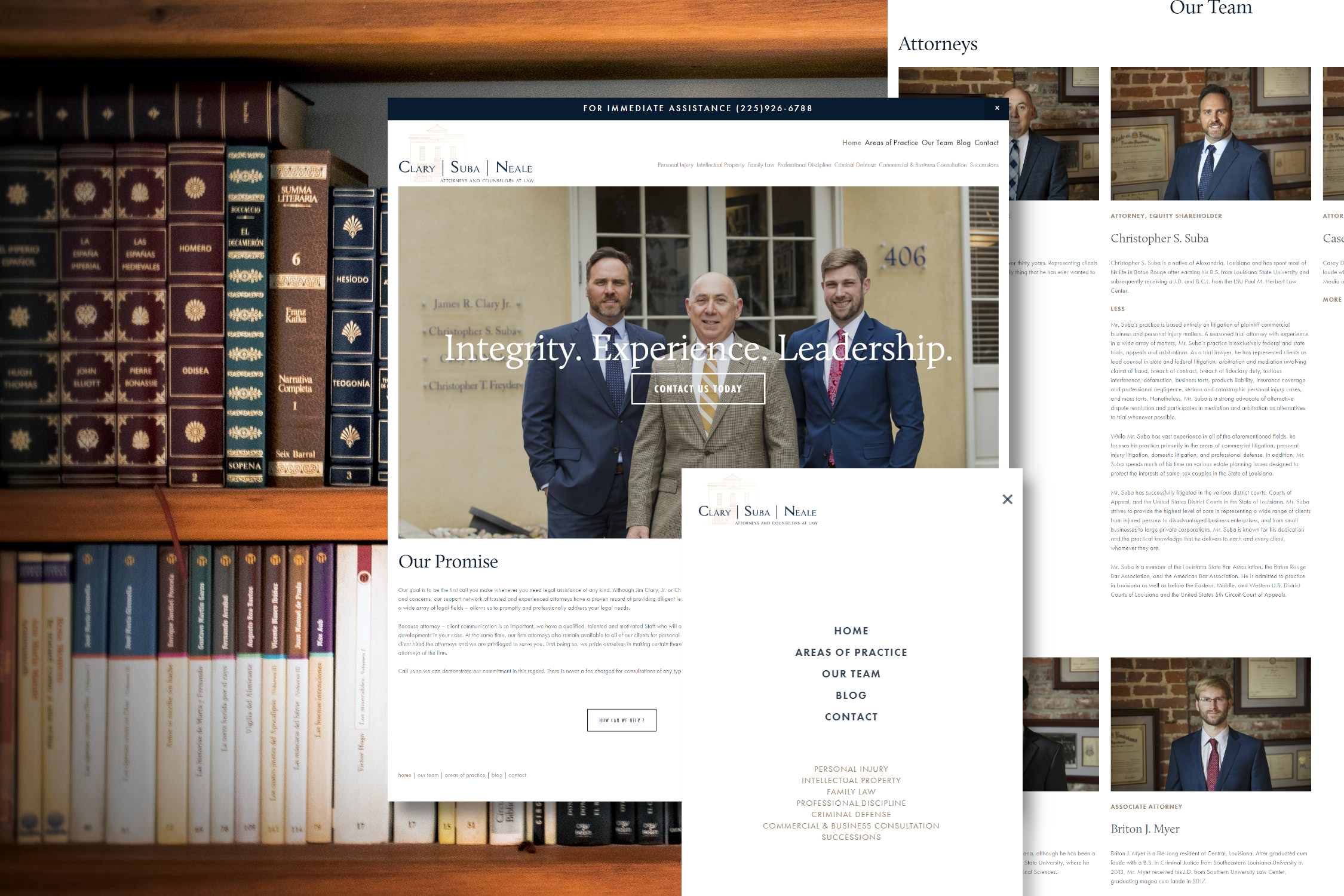 MethoD
Philosophy
Digital Neauxmad aims to know your brand, your culture and your industry; inside and out. The design aesthetic of everything that I do for you— your website design, digital marketing initiatives, email marketing campaigns— will directly reflect your brand's identity.

By hiring a contracted web designer and digital marketing specialist like Digital Neauxmad, you get the personal touch and special attention of an in-house employee, but the expertise and efficiency of a full-service agency.

The essential digital marketing tools are already available at little to no cost, but the expertise and time for mastery is not. It's my goal to empower businesses to get a grip on their online marketing and take control of their digital footprint.
WebSite DESIGN | Digital MARKETING
Capabilities
photo by Digital Neauxmad | Santa Fe, NM '19
Take Control of your digital footprint.